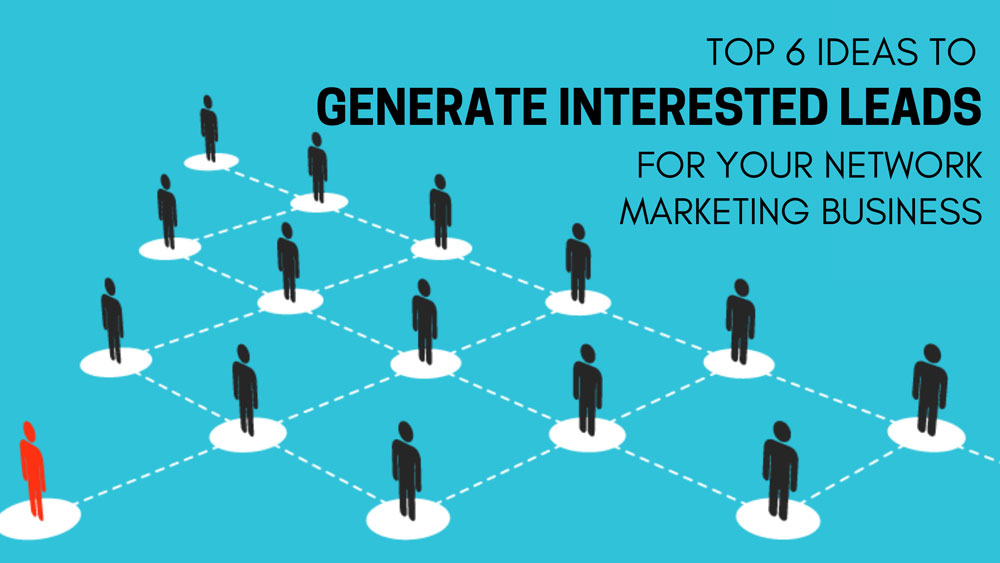 Generate Interested Leads for Your Network Marketing Business
Connecting with new people is a must for the success of your network marketing business because it enables you to turn your prospects into customers and also gives you an opportunity to introduce them to your business/products/services. The process is simple yet it all begins somewhere. Yes, you got that right. It starts with getting network marketing leads for your business because without leads you cannot proceed further to build your business. Remember, times are changing and it's easy to miss something in the blink of an eye if you don't keep up well. Here are the top 6 ideas to generate interested leads for your network marketing business that will be of great help to you.
Get leads for your Network Marketing Business through Social Media
Make the most of these powerful social media platforms.

Facebook
Facebook is one of the largest social media platforms that can help you a great deal in generating leads. It gives you a chance to connect with an endless number of people who might be interested in your network marketing business. Make it a point to post about your lifestyle as this will make the audiences curious to know what you do and how you do.

Ensure that your Facebook Page shows only content that is useful and relevant to those in the industry. You can also run lead generation ads.
You can also post your blogs/Youtube Videos and backlinks with the website.
Gain the trust of the audiences by opting for a Facebook Live. With the help of Facebook, Live audiences know that you are a real person. Also, it gives you an opportunity to share your ideas and educate your viewers on something that can help them in their life.

Youtube
Youtube is the second largest search engine in the world and is a powerful tool to jumpstart your search for network marketing leads. Millions of people use Youtube to watch and share videos. Are you using Youtube to reach out to audiences in huge numbers and give a boost to your network marketing business? If not, you are certainly leaving money on the table. Your Youtube videos are there on the web 24×7 and working for you, this helps you build an identity for yourself and also capture the attention of new prospects.
Linkedin
Extend your LinkedIn network as Linkedin is a popular place to collect new network marketing leads. Ensure that your profile is up-to-date and once this is done join some Linkedin groups for network marketers and contribute only useful information these groups refrain from selling. This is important. By this means, people start to reach out and express interest in your business.

Host Informational Webinars
Hosting webinars is an effective way to know your prospects better and building your network marketing leads list. Also, it is a convenient way to reach out to people in large numbers as people from all over the world can attend and learn more about what you are offering through your webinar. By hosting a webinar, you will get an email id in exchange for watching the webinar from individuals, and this, in turn, will help you with expanding your email list too for email marketing purposes thereby, helping you increase your customers and downline both.
Use Email Marketing to get more prospects
Email marketing is genuinely a great way to get more leads for your network marketing business. Once a user subscribes to your email list, you can start by setting up a series of automated emails that can be circulated over a period of time. For this, you'll need an opt-in form or pop-up when people visit your website, along with the occasional newsletter update. Now, the question arises how do you build an email leads list? One of the best ways is to offer something to any individual who subscribes to your list. For example, you can offer them to download your ebook for free that provides all the information over and above regarding your products and services.
Leverage your network to create new connections
Well, this is something that might help you heaps. Reach out to people, who you think can introduce you to people in the MLM industry or to someone who might be interested in buying your products. This doesn't have to be restricted to just friends and family as there are plenty of other people with whom you interact on a daily basis like your coworkers, customers, members of the professional associations, and so on who can introduce you to people in the same industry as you.
Develop a referral program
Coming up with a referral program can work wonders for your Network marketing business. By launching a referral program, you can build a strong customer base for selling your products or services. Just like any other business, people who are referred by others are generally easier to convert to customers than others who aren't because they are coming to you with the intention of buying. Besides this, you might incur a situation where people will not be interested in buying right away but they might introduce you to people who are interested in your products/services.Also, sometimes, you might find yourself in a situation where you pitch the business opportunity to an individual and it turns out they decide to be a customer for the moment, but there is a probability of him/her deciding to build a business at a later stage. To make your network marketing business a hit show, offer people an incentive to refer others to you. For example, you can give them a 10 percent discount on their next purchase for every new customer they refer to you.
Create an eBook Giveaway for more MLM leads
This is yet another way in which you can showcase your expertise thereby taking a step ahead towards building credibility amongst people. It is also an excellent way to build your reputation and identity. Once you've come up with an eBook, you can consider holding a Giveaway wherein when a prospect subscribes to your email list, they get to download your ebook for free. Further, you can stay in touch with them by marketing through email for as long as they are your subscriber.
At AURETICS, we help our advisors learn and implement various lead generation strategies for bolstering their network marketing business from time to time. We believe in keeping ourselves up to date with the upcoming techniques, technologies, and practices in order to ensure a top-quality experience for all our prospects and customers. Also, always remember getting leads is just the first step in the sales cycle, next you have to qualify them and determine if they're a good fit, followed by that make your pitch, and then finally, follow up. It might sound quite a task, but trust us once things are organized, the whole process will be a cakewalk for you.
---