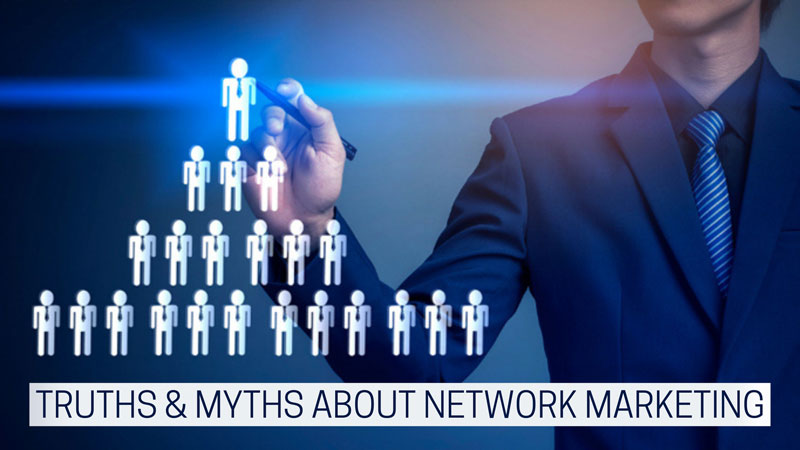 Truths & Myths about network marketing
It is a well-known fact that the network marketing industry is one of the largest sectors that touches the lives of millions around the world. Also, a major chunk of the population has found their financial goals through network marketing and sees it as a major source of their income. Despite being one of the biggest employment generators, the industry is mired by many myths. Below we will try to bust these myths that surround the network marketing business industry by bringing the true facts in front of you.
Myths about Network Marketing
No work-at-home scheme is more misunderstood and demeaned than network marketing, which is also known as MLM business or Direct Selling business. If you too are considering taking up network marketing then it is advisable to examine a few misconceptions about it.
Network marketing is all about using innocent people to one's benefit
Network marketing is about helping others for everyone's benefit. In this business, you have mentors to assist you on every step in comparison to the corporate world, wherein people compete with their colleagues. One's success in network marketing is immensely based on the progress of members recruited by them and this factor ensures that new members always get all the necessary help from their mentors at every step.
Only founders make money in network marketing
This is absolutely false. Both the topmost person and the downlines make a profit depending on their efforts. It is an add-on if you train and focus more in order to earn more money and promote your business while learning new ways every day.
Network Marketing is based on illegal pyramid schemes
There certainly exists a minute difference between an illegal pyramid structure and a permissible one and it is important that you understand the difference between the two before concluding anything. An illegal pyramid structure makes use of your money to recruit the downlines, whereas in a legal MLM business the main idea is to sell the product directly or indirectly to the customers by offering some commission rates for the distributors. In this way the owners as well as the distributors, both gain profit from the MLM business. Auretics being a legitimate network marketing company adheres to all the laws and refrains from practicing any ill practices.
The program will get saturated eventually
Saturation is impossible as there isn't a finite number of people involved in this industry. With a new customer turning 18 every day and an old customer looking for a change or up-gradation of product, the potential network marketers keep on adding to the pool of prospects every year.
Facts about Network Marketing
Now that you are serious about being involved in the direct sales business, it is recommended that you know and understand well all the common facts about the MLM business sector.
Keep your recruiters from quitting
In order to make money from your down-lines, you'll have to keep them on the network. Because losing members from the network affects your business and it is crucial to recruit reliable members in your business to succeed.
Appreciate the sales efforts
Ensure that you encourage everyone's effort so they will not want to quit. Appreciate every sales effort and keep them motivated, even if it is for a small revenue or maybe a try.
Confirm your upline has some business experts
Consultants are trained to see people, take note of their likes and dislikes, this helps in working according to their interest within the products and plan while benefiting the whole network.
Avoid using unethical sales tactics
A direct selling business trains its consultants to market its products/services in ethical ways while respecting everyone's feelings and sentiments.
In conclusion, MLM business like any other business requires commitment, patience, and dedication to succeed. Knowing that you invest your time and effort in something successful is really important. Also, understanding how do you market your business is very crucial to what business you do. Hoping all the myths about Network Marketing are flushed out of your head and you've actually understood the value and facts behind a good network marketing business.
---